Reproduce the temperature profile of Reflow oven. Can observe the melting state of solder paste.
Easily achieved by the temperature profile of lead-free solder mounting.
Observation test of heating conditions
R&D, quality control, etc.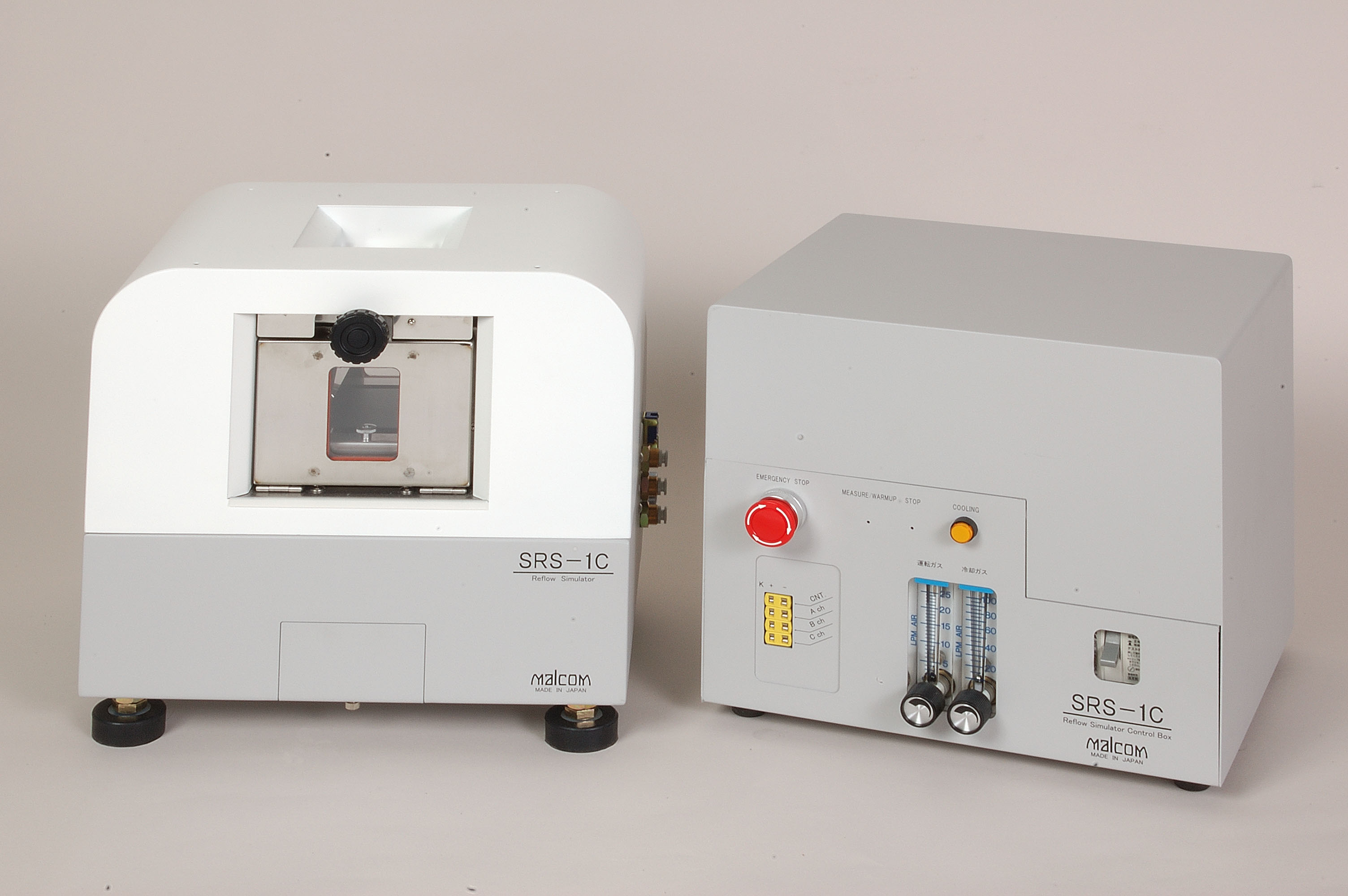 Feature
● The top surface of the original heater control matrix, the optimal temperature distribution in the heating test
can also be unbalanced heat capacity with respect to the substrate.
● For each stage as well as temperature, time can be arbitrarily set, you can freely extend the time of peak reflow
temperature maintenance.
● The observation windows on three sides and top of the front and back of the device, can be observed
in the furnace during operation Mokushi the state.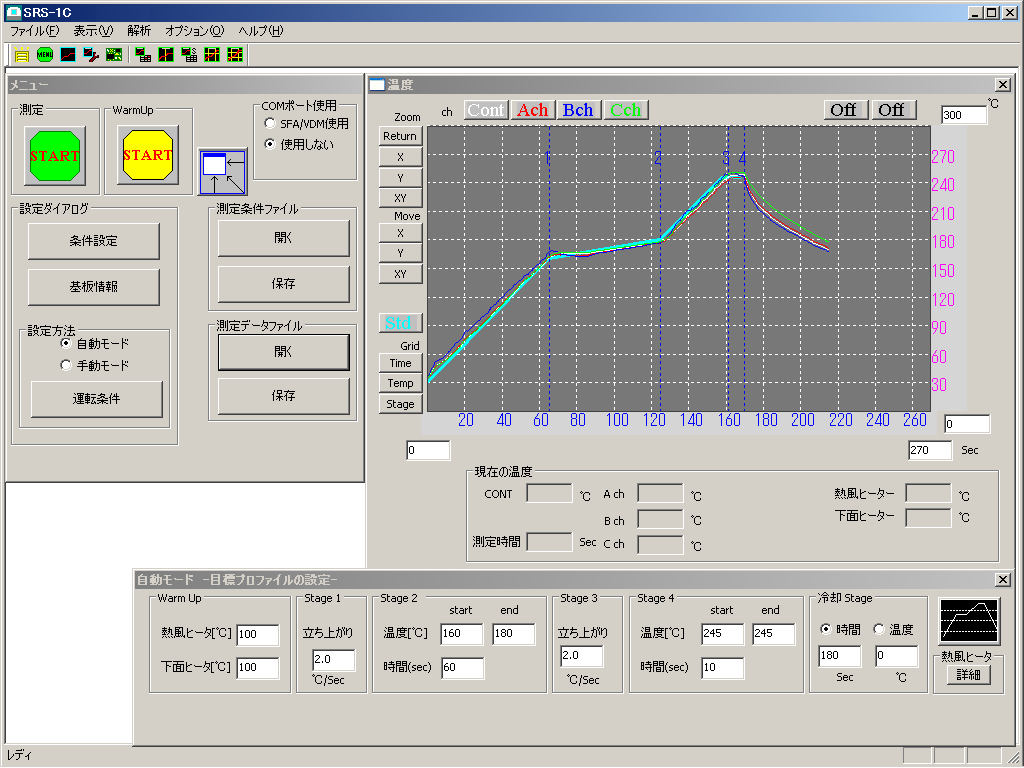 Video observation
The VDM-3 video observation system can be used to store temperature and images./p>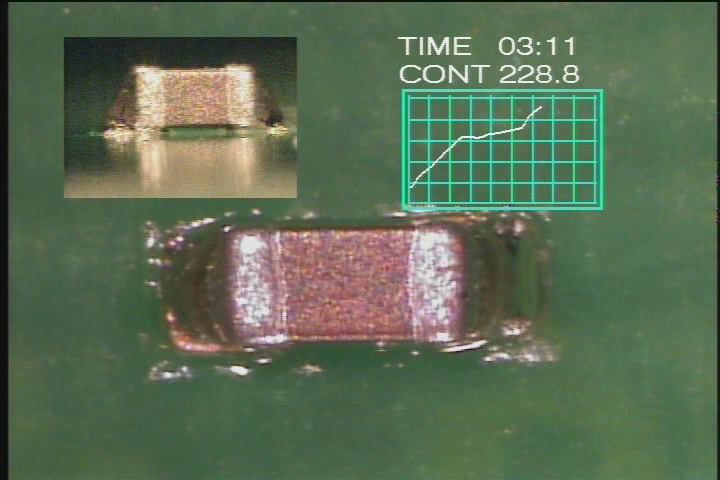 Topside camera observation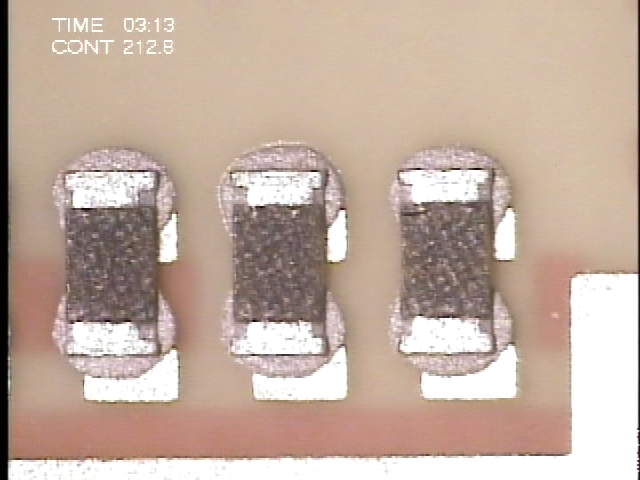 product specification
Item
Specification
Model Name
SRS-1CS
Applicable Circuit Board
Up to 70W x 70L x 10H mm
Outer Dimension
Main Unit : 320W x 285D x 310Hmm
Controller unit : 290W x 235D x 270Hmm
Heating Method
Upper-face : Hot air
Lower-face : Extreme infrared radiation
Cooling Method
Flowing air or N2 air (with flow adjustable valve)
ower Supply
200V 50/60Hz 3kVA 3Phase
Air
0.3 - 0.5MPa 100 liter/min (Maximum)
O2 Concentration in Furnace
(when using N2

)

100ppm minimum (Heating furnace is sealed up)
PCB Installation
Flat plate system
Upper-Heater
hot air heater : Approx. 2.8kW (Approx. 350W x 8 series)
* Deviation to standard nozzle can be set.
Lower-Heater
Extreme infrared radiation heater : Approx. 360W
Temp. Accuracy
5C maximum (Maximum range : 50(W) x 50(L)mm in the center)
Measuring Temp. Range
Room temp. - 330C
Measuring Points
3points
N2

Gas Supply Function

25 liter/min. with flow regulating valve during operation.
Control
Exclusive softwarefor Windows XP
Weight
Main unit : Approx. 12kg Controller unit : Approx. 8kg
* The above specifications are subject to change without notice.