SOLDER-PASTE WETTING TESTER
(SP-2)
SP-2 is wettability testing machine for solder paste, parts electrode and PC board, adopted SP-Tension-Method (Temperature Profile Method)
Three measurement methods
Observation the process of wetting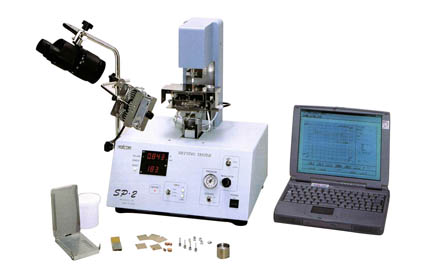 Feature
●Can test and evaluate solder paste, PC board and parts-lead.
●All wetting process can be observed from glass windows.
●"Wetting Balance Measuring Method","Micro-Wetting Balance Measuring Method", and "Quick Heating Method"
are possible optionally.
●Can simulate reflow oven profile with hot air and N2 purge.
●Electro-balance sensor adopted allows detection of very small force.The wettability of microchips can now be
examined by this unit.
●Analyze wetting time and force with exclusive software.
●Solder wire testing is also available.
product specification
Item
Specifications
Load Sensor
Principle
Electro - balance sensor
Measurement range
10.00gf~-5.00gf
Measurement accuracy *
± (10mgf + 1 digit)
Resolution
Less than 900 mgf: 0.001 gf More than 900 mgf: 0.005 gf
Temp. Sensor
Measurement range
0~300℃
Measurement accuracy
±3℃
Heater unit
Temp. of heater unit
Room temperature ~ 300℃
O2 Concentration
Simple closed heater unit with nipple for N2 purge test
Temp. profile setting
1. Preheat temp.
2. Preheat time
3. The rate of temp. rise 3℃ /sec. (standard)
4. Maximum temp.
5. Maximum temp. time
Melting point
Preset solder paste melting point
Table movement
Automatic: operated by PC
Manual: operated by Up/Down switch (selectable 3 steps speed)
Digital output
RS-232C cable (Malcom format)
Air supply

Original air pressure: 0.2~0.5 Mpa (Approx. 2~5 kgf / cm2)

Adjustment air: 0.2 Mpa (Approx. 2kgf / cm2 )

Power supply
AC100V 50 / 60Hz 700W
Weight
Approx. 20kg
*Load sensor accuracy is not concerned oscillation.