REFLOW CHECKER MEMORY UNIT (PLUS α AIR VELOCITY MONITOR RCM-W)
Reflow Checker Memory Unit With Wireless LAN Connection RCX-R
Wireless LAN makes it possible to show you the temperature profile in real time.

Real-time monitor
Wireless & memory combined type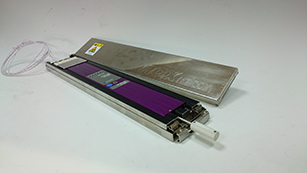 FEATURE
● You can change the device settings while checking the temperature profile.
● Check the temperature profile in real time on a PC.
● Increase efficiency of studying temperature profiles.
● he built-in memory function avoids losing data.
● Complies with wireless LAN standards
Specifications
Item
Specification
Max. measuring time
MAX3hours *1*2
Sampling time (sec))

0.05 , 0.1 , 0.2 , 0.5 , 1.0 , 2.0 , 4.0 , 8.0 Arbitrary setup possible, 

Synchronized with RCM-S main unit.

Wireless LAN

Protocol: 802.11b/g/n / Security: WPA/WPA2 / Encryption: WEP/TKIP/AESS

Power supply
Supplied from RCM-S main unit , Ni-MH battery (AAA battery x 3pcs.)
Outer dimensions

Main unit: 195 (D) x 40 (W) x 13 (H) mm
Heat resistant case: 370 (D) x 65 (W) x 25 (H) mm

Sensor 35 (D) x 45 (W) x 19 (H) mm

Weight
Approx. 100g (RCM-S main unit is not included.)
* 1 It differs from the heat resistant time of memory unit.
* 2 It is the experimental value by AAA battery. The max. measuring time depends on battery capacity.
ダウンロードよりID登録が必要になります。
ID登録、ログインは 【
ダウンロード
】 から実施して頂けます。