COMPACT REFLOW CHECKER(RCP-200)
Achieve high heat resistance in spite of small size! "Compact reflow checker with further evolution."
COMPACT 6ch
High heat resistance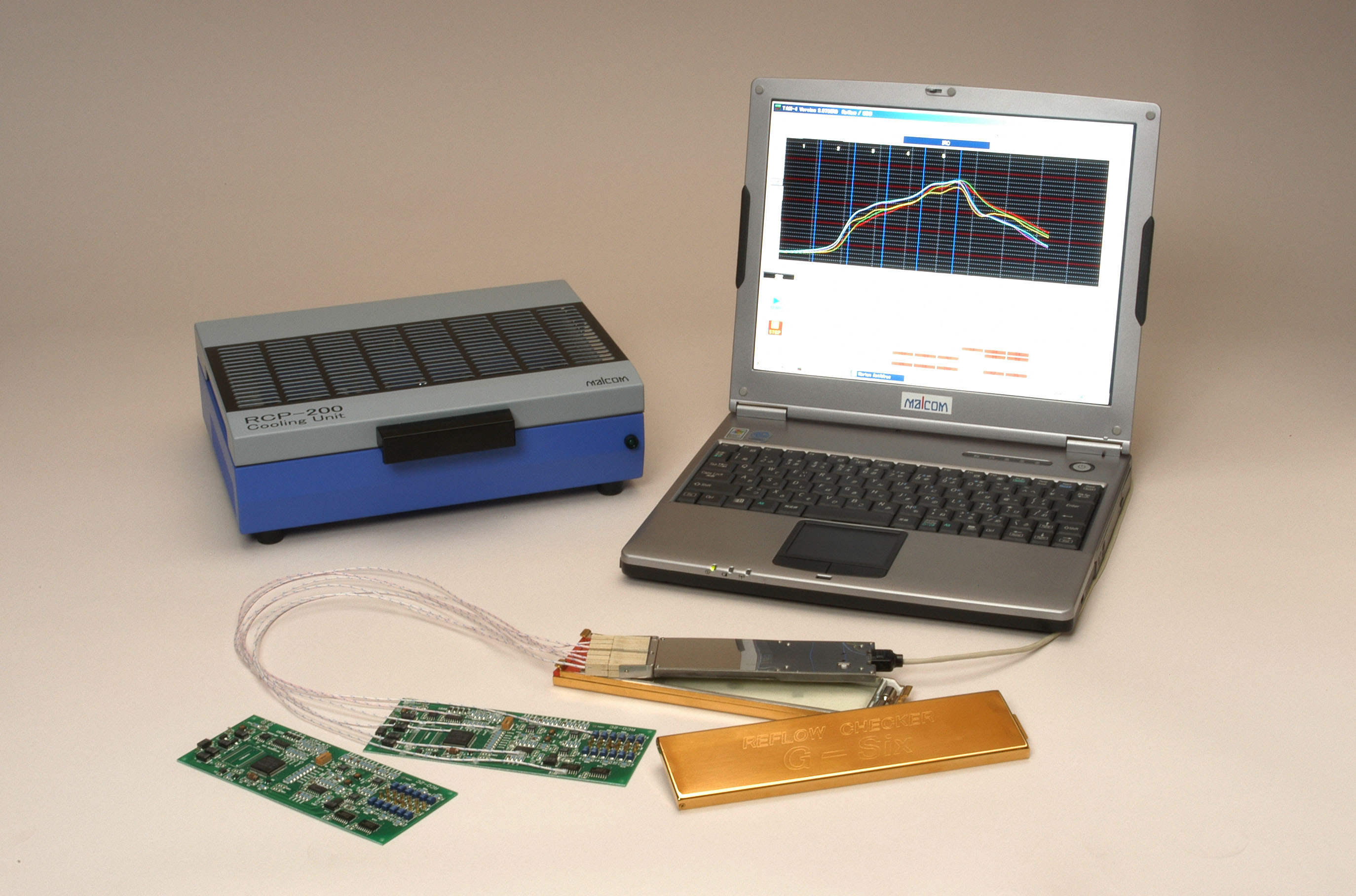 Feature
●Proprietary "Heat Resistant Micro Connector" makes it possible to measure at 6 points.
●High Heat Resistance, Excellent Performance, and Directly Transfer Data to a PC.
●The GOLD color surface reduces radiant heat, increasing heat resistance.
●Exclusive "Cooling Unit" effectively cools down the memory unit and "Convenient Storage Case" available.
product specification
Item
Specification
Model Name
RCP-200
Memory unit model name
RCM-G
Measuring Temp. Range
0 - 300C
Measuring Points
1 - 6 points
Max Measuring Time
Approx. 90 min. (Sampling Time:0.5 sec.)
Approx. 15 min. (Sampling Time:0.05 sec.)
Sampling Time
0.05, 0.1, 0.2, 0.5, 1.0, 2.0, 4.0 & 8.0 sec. (Arbitrary setup possible)
Temp. Accuracy
+/-2C
Input
Thermocouple JIS-K 110Ω max.
Power Supply
Lithiu Ion Rechargeable Battery
Outer Dimension
200(W) x 50(D) x 15(H)(mm)
Figure
Figure
Weight
Approx. 400g
Data Transmission Method
USB
Reflow Profile Analysis Software
TMR-1
* The measuring accuracy does not include the error of thermocouple.
* The maximum measuring time does not consider the thermal resistance, and this is not the time allowed for
measurement inside the reflow furnace.
* The above specifications are subject to change without notice.
Cooling Unit
| | |
| --- | --- |
| Item | Specification |
| Model name | RCF-3 |
| Power supply | 100V~240V AC, (approx. 15W) 50/60Hz |
| Fan | Square 120 mm (2.9 m3 /min. Max.) 2 pcs. |
| Input gas | Rc 1/8 screw connection Air 0.5Mpa following |
| Outer dimensions | 350(W)×240(D)×160(H) (㎜) |
| Weight | Approx. 5kg |