The specific gravity controller correspondence to the low rosin flux.
Automatic concentration control
1/10000 Display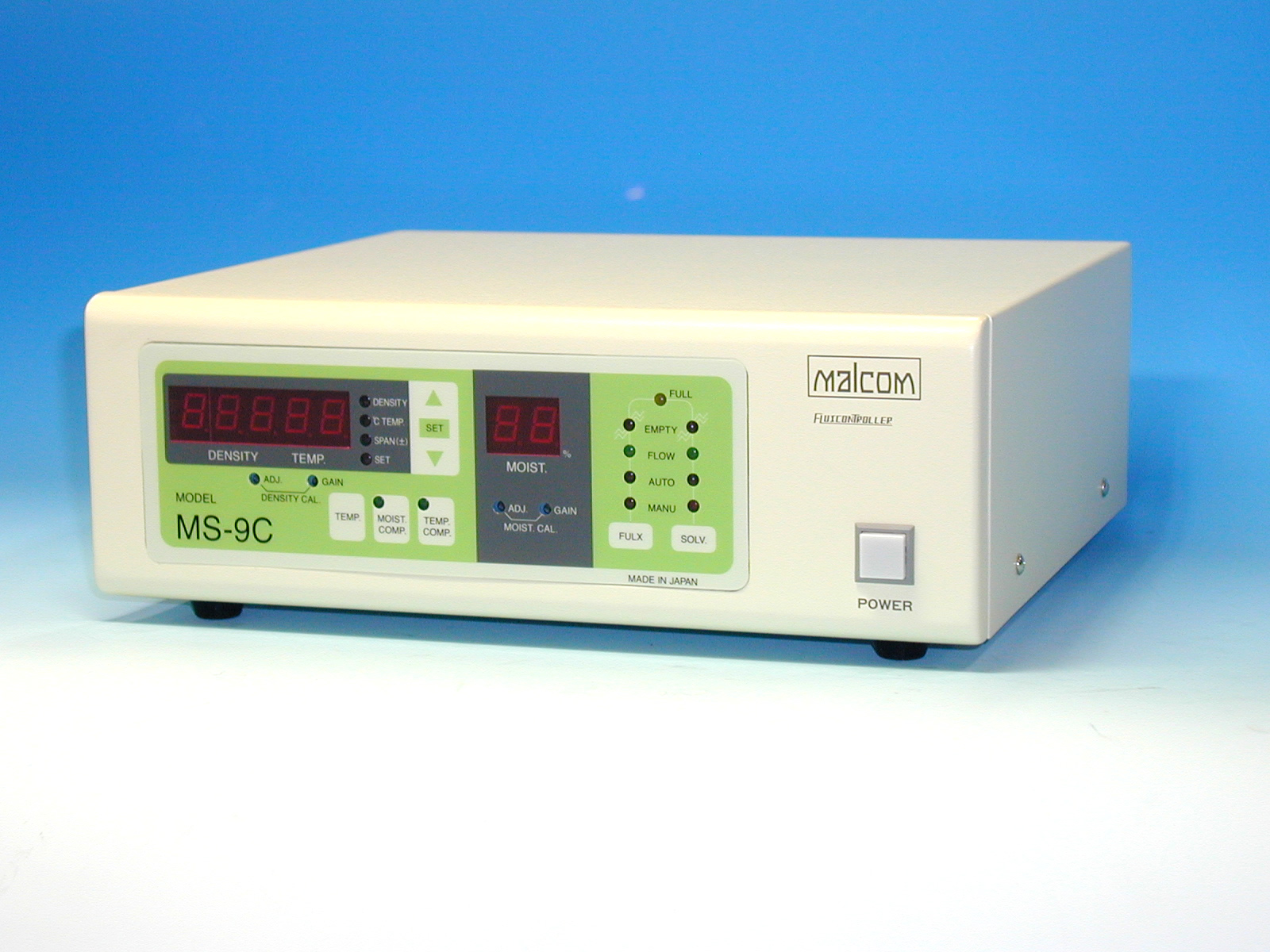 Feature
●The specific gravity of the flux is automatically managed.
●Built-in Microcomputer control all function.
●The specific gravity of the flux is digitally displayed.(1/10000 digits)
●The flux temperature is digitally displayed.
●Temperature correction (20C conversion) circuit is built-in.
●Moisture compensation circuit (0% conversion) is built-in .
●RS232C output is built-in.
●Automatic management of the flux level.
●Flux tank empty alarm.
product specification
Item
Specification
Model Name
MS-9C
Specific Gravity Range
0.8000 - 0.9000 (0.7500 - 0.8500) Chang-over switch
Specific Gravity Accuracy
+/-0.0030
Temperature Correction for Specific Gravity
Built-in temperature correction circuit (20C conversion).
Moisture compensation of Flux
moisture compensation circuit built-in.(0% conversion)
Liquid Depth Management
Between 5mm of the upper/lower limits.
Temperature measurement Range
0 - 50C (Pt Temp. Sensor)
Temp. Accuracy
+/-0.5C
Moisture rate measuring range in liquid
0 - 9.9%
Moisture rate accuracy
+/-1%
Supply method of liquid (Pump Capacity)
Automatic pump supply (Head:1m, 500ml/min)
Liquid Empty Alarm
Automatically signals alarm: buzzer & LED (red), output relay
Usage Tank
18L (direct use possible)
Output Relay
Digital : RS232C, B9600, C8, NP, S1
Analog : DC4-20mA
Sensor Cord
3m
I/O tube
6m
Material Quality
Vinyl Chloride, Stainless Steel, PE, PP, EPT, Polyurethane, Viton, Fluorocarbon, PA
Operation Temperature
10 - 50C
Power Supply
AC100V (or AC200V) 50Hz/60Hz
Power Consumption
Rating: 35VA
Fuse
2A
Weight
11kg
* The above specifications are subject to change without notice.