MICRO UV-VIS · FLUORESCENCE SPECTROPHOTOMETER(ES-2)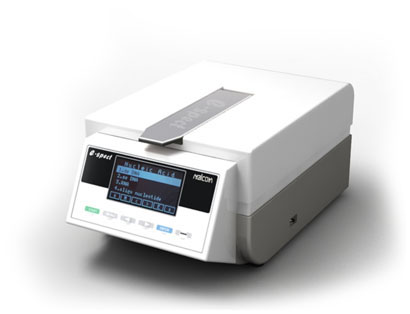 Usage
It measures small volume samples as small as 1μℓ for UV-Vis florescence measurement.
Feature
●Amount of sample is only 1μl
●Cuvette less
●PC less Measurement (with a LCD monitor)
●Data output(PC、USB memory、printer)
product specification
Item
Specification
Model
ES-2
Equipment Size
Portable type
Sample quantity
1μl
Path length
0.2mm(for high concentration), 1.0mm(for ordinary)
Light Source
UV Source : Xenon flashlamp
Fluorescence excitation Source : White LED(Ex:430~700nm)
UV LED(Ex:375nm±10nm)
Detection
3648-element linear silicon CCD array
Wavelength Range
220-750nm
Wavelength Accuracy
1nm
wavelength Resolution
3nm (FWHM at HG 546 m)
Absorbance accuracy
3-250ng/μl:1.5ng/μl 250ng/μl or more :±2%
Fluorescence identification limit
Alexa 488 50fmol Cy5 50fmol Qdot 565 25fmol
Absorbance Accuracy
0.0-75Abs (10mm equivalent absorbance)
Measurement Time
10-15 sec/sample
Cell material of construction
Quartz
Cell cover material of Construction
stainless steel
Power Voltage
AC100-240V 50/60Hz
Power Consumption
8W
Outer Dimension
W160 x D280 x H125 (mm)
Weight
Approx. 2.3 kg
* The above specifications are subject to change without notice.