REFLOW SIMULATOR SRS-3L
The production board is heated as it is, and the warpage is measured in 3D.
Feature
● Reproduces a state close to the actual reflow environment by convection heating with hot air
● Compatible with large boards, maximum board (parts) dimensions 360x360mm Height ± 30mm
● Uses a high-speed, high-precision sensor to measure warpage / displacement and coplanarity of substrates and parts in a heated state.
● JEITA ED7306 Package warpage measurement method compliant p>
JEITA ED7306
R&D, quality control, etc.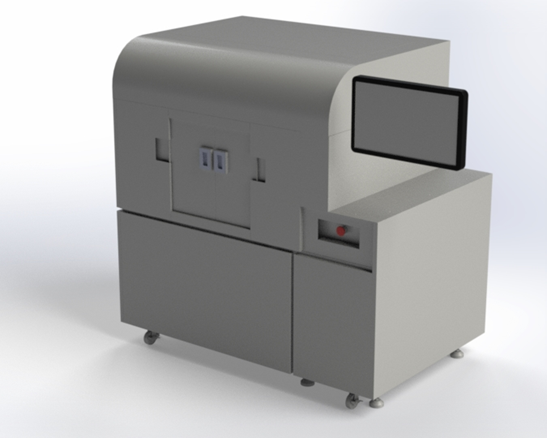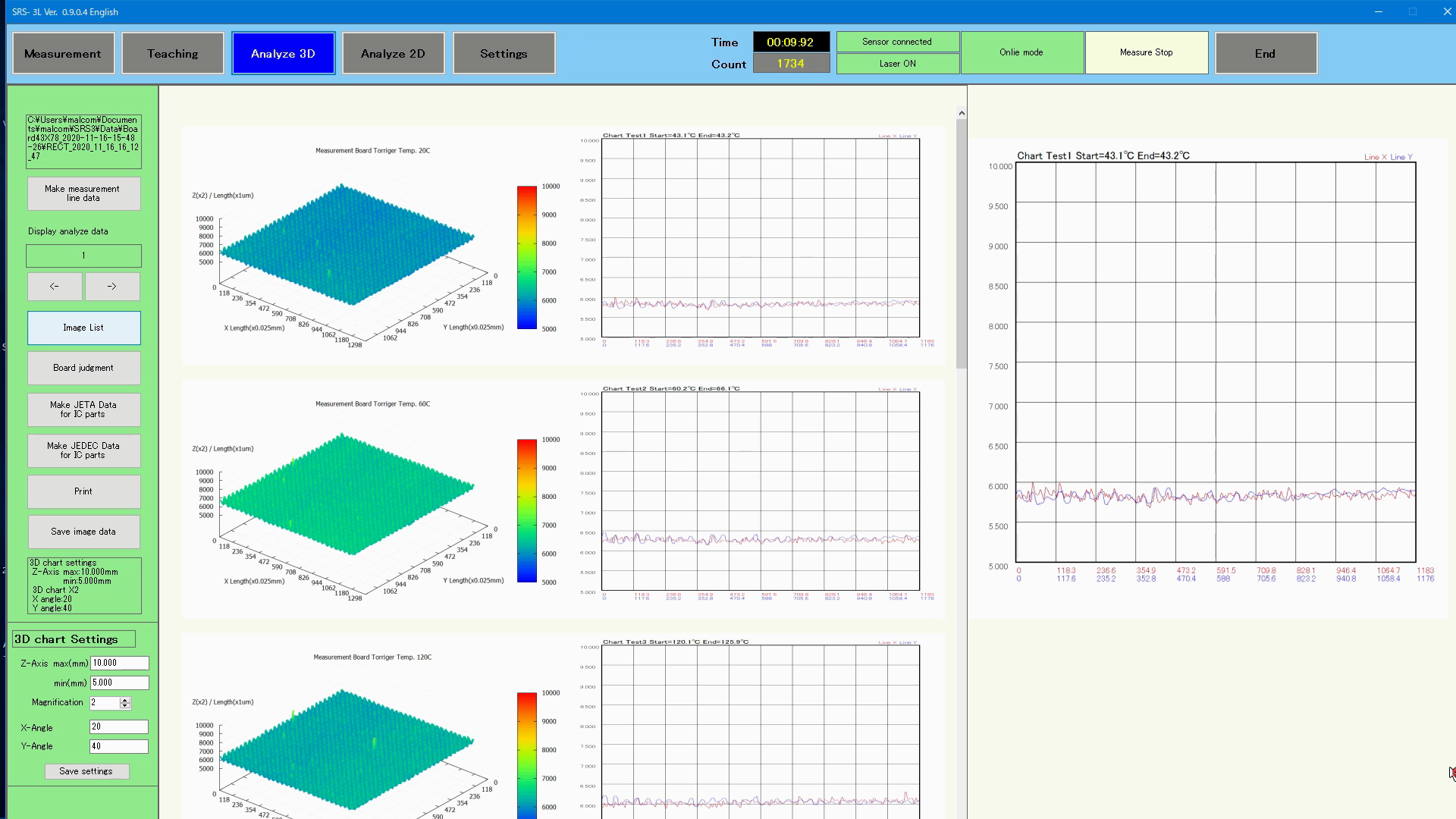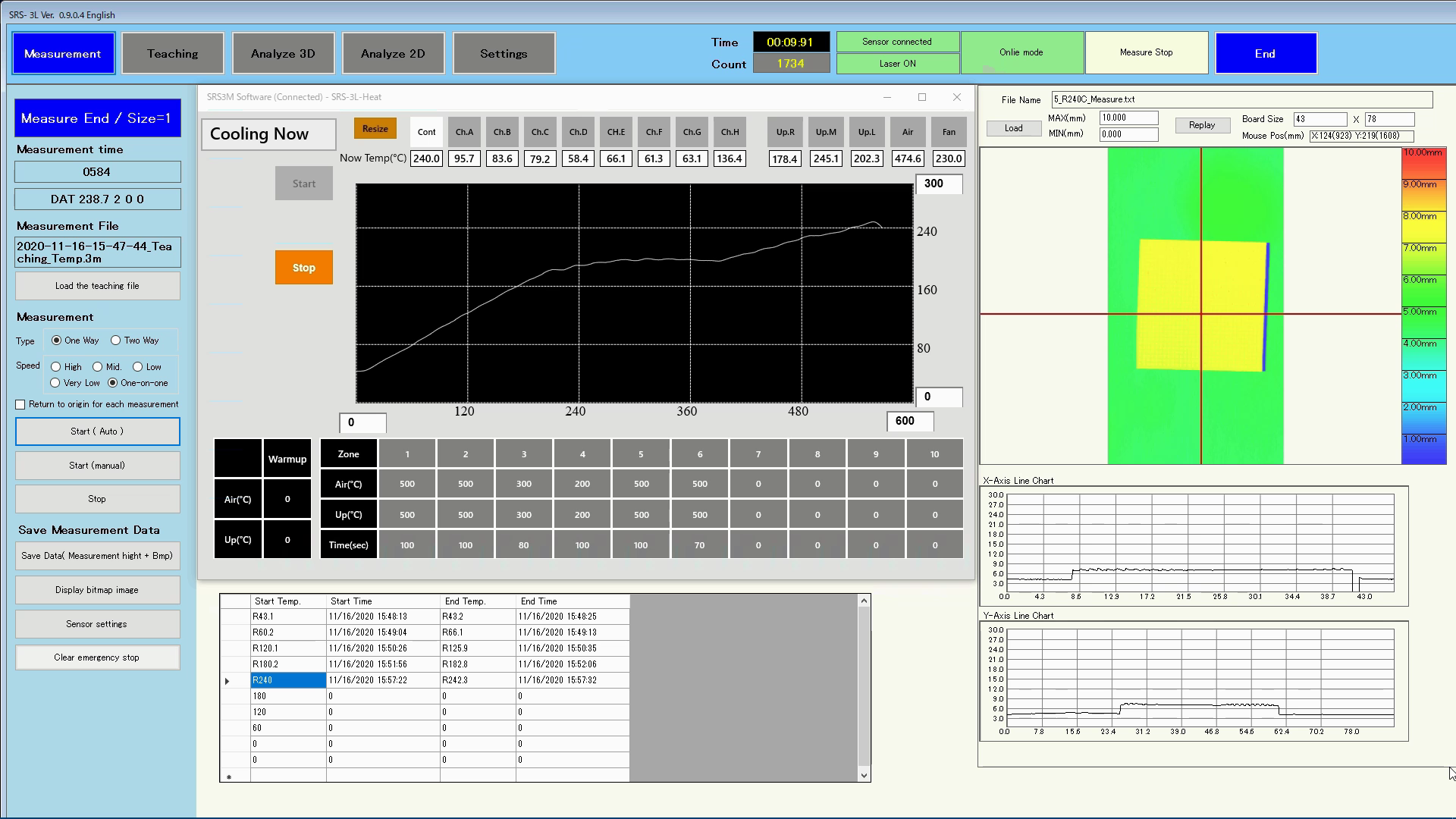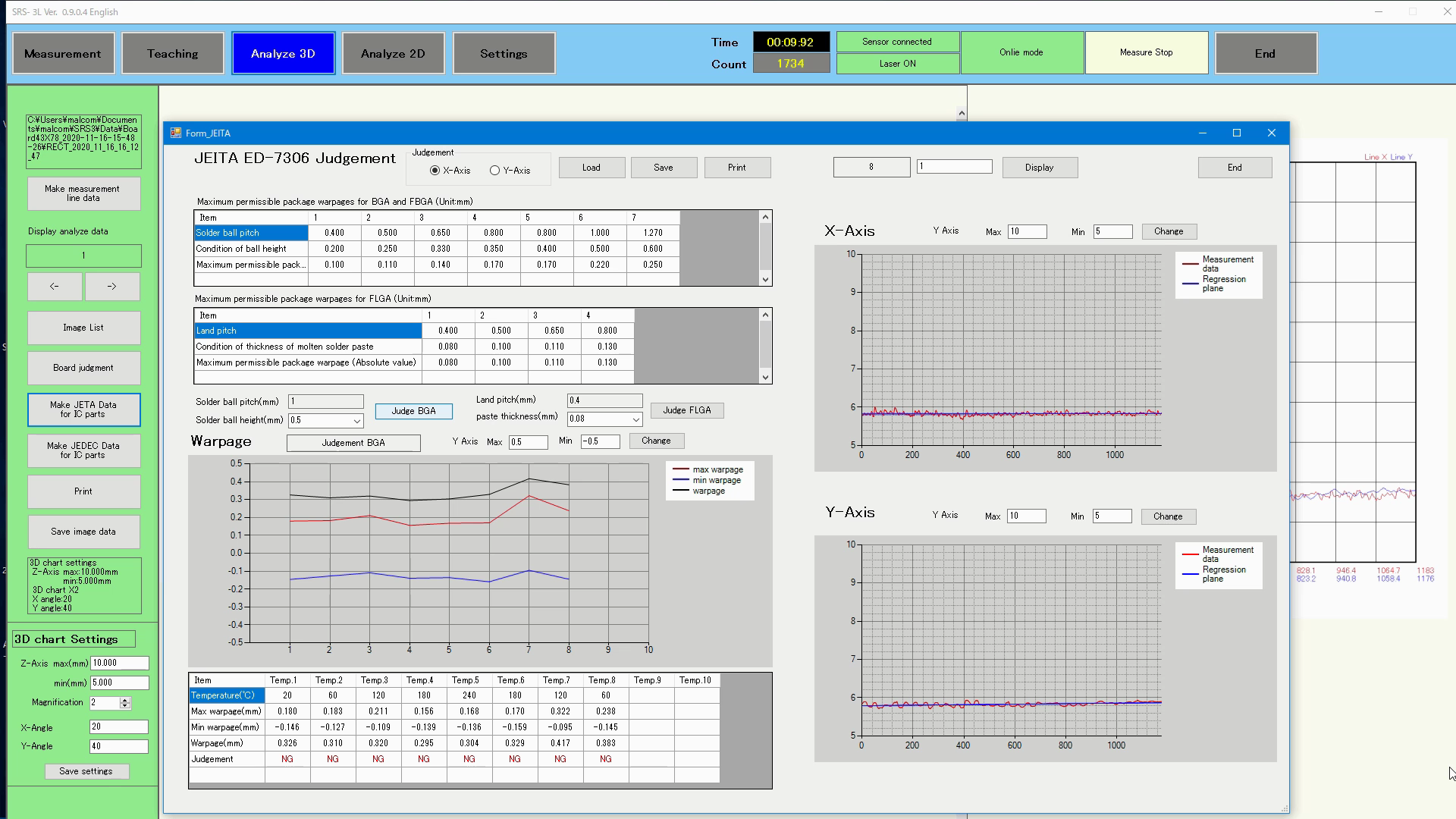 Product specification
Item
Specification
Model Name
SRS-3L
Applicable Circuit Board
Up to 360mm×360mm
:Device height 30mm or less
Outer Dimension
1344W×900D×1290H
Observation device dimensions
700W×452D×168H(mm)
Heater section dimension
516W×170D×335H(mm)
Air circulation device
431W×140D×500H(mm)
Heating Method
Hot air(air or N2 air)
Heater(2kw×4、500w×3)
Cooling Method
Flowing air or N2 air (with flow adjustable valve)
Power Supply
200V 50/60Hz 10kVA 3Phase
External gas
0.3~0.5MPa 100L/min(MAX)
Oxygen concentration
At least about 100ppm
Measurement temperature range
0~330℃
Nitrogen consumption
100L/min
Number of measurement points
9ch
Scan time (X-axis, Y-axis)
150mm/sec
Control software
SRS-3 Windows10
Weight
About400kg
Sensor head specifications
Measurement height (object from sensor)
245mm
Measurement range (Z-axis height)
±34mm
X axis (width)
72mm
light source
Blue semiconductor laser
Wavelength
405nm(Visible light)
Laser class
Class 2M
Laser output
10mW
Repeatability Z axis (height)
1μm
Repeat accuracy X-axis (width)
3μm
Linear Z-axis (height)
±0.04%
Temperature characteristics
0.01%ofF.S./℃
Sampling cycle (trigger interval))
Max64kHz
Camera specifications
Item
Specification
Camera type
Single plate color camera
Image sensor
1/1.8
Total resolution
1688 x 1236 Approximately 2 million pixels
frame rate
30FPS
※ The above specifications are subject to change without notice.